An Ode To Amazon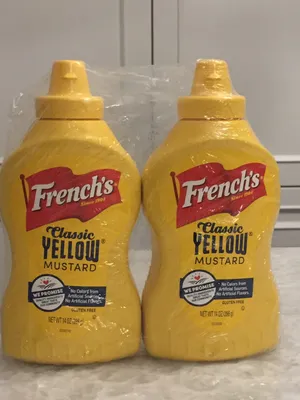 Mustard, Mustard
My sweet yellow Mustard
My "I don't have to go to the store" Mustard-----
My Mustard
That "arrives at my door"
Mustard
So I don't have to go to the store
Mustard.
My "Why would I go to the store Mustard"
When I can have my
"Arrive at the door" Mustard?
Such a simple buy at the store Mustard
But I'd rather have
"Not on the fly"
Mustard.
My "Must" buy Mustard
A household staple
That didn't make the grocery list
Because I forgot
Mustard.
Just a click of a button
Can eliminate all my fussin'
Sleeping soundly tonight
My mustard will be delivered when the time is right.

My must buy Mustard
I can order on Amazon
So many choice mustards
Like
Spicy Yellow and Grey Poupon.
Looking out my window
After I hear the brown box drop
From my couch to the door
Is just a jump, skip and a hop!

**************

The purpose of this poem is to inspire readers to appreciate the simple things in life….even as simple as mustard being delivered to your home from amazon. Talking about mustard might seem unusual. However, this is an opportunity for you to expand your COMFORT ZONE.
Explore within your own imagination, and notice something new in your environment, or look at something in your everyday environment and gain a new perspective on your observation.  Allow your senses to express themselves…what you see, it's colors; what you smell; the aromas….what you hear, it's pitches and tones…..what you feel; both emotionally and physically….notice what comes up for you.
*Be open to looking at life with a new lens
*Be consistent with your mindfulness
*Don't judge yourself if negative thoughts arise
*Don't pressure yourself to have to fix or change anything in this moment
*Allow the simplicity of your observation in the moment to bring a sensation of relaxation and rest to your mind
*Eliminate habits that don't fit into your life goals
*Lighten your Load
*If you don't "stop to smell the roses", time will pass with lost opportunities to feel better now
*Even short spurts of practicing mindful observation intermittently can create tremendous benefit for the mind, body and soul.
*Give up the myth that you have to be the "hero", the "martyr", the "yes" person, the "perfectionist", the "need for validation" person, the "I can do it all" person,
the "I still got my mojo" person.
*Go easy on yourself, and don't feel guilty if you do LESS.  Sometimes, "less is more".  Especially when you can narrow down what is most important to you, and be more productive. Isn't that better that falling below your standards because you're just DOING TOO MUCH?
*PLEASE READ my BLOG found on this website titled, The Jelly Bean Jar which talks about avoiding burnout and promoting self-preservation
*There's a famous quote that says, "The little things of today are the big things tomorrow."
*Fight against: boredom, depression, anxiety or stagnation
*Look at nature; architecture, interior design, or art.  There are only right choices in this practice, so let your imagination run free, and
Happy Mindfulness!!!